Tribute to forest zip wire death boy Bailey Sumner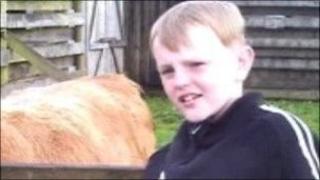 An 11-year-old boy who died after falling from a forest zip wire ride in Gwynedd was "very talented and very able", his head teacher has said.
Bailey Sumner, from Blackpool, was flown to hospital after the fall at GreenWood Forest Park Centre at Y Felinheli on Sunday but later died.
Boundary Primary School head Dayle Harrison said pupils and staff were "devastated" by the news.
He said the school was planning a tribute to Bailey.
The theme park, which was closed on Monday, said Tuesday's takings will go to the Wales Air Ambulance.
The park owners said all equipment had been checked before the fatal incident on Sunday morning and was in good condition.
Mr Harrison said: "He was a well liked young man right across the school. Children and staff are devastated.
"He was a charismatic young man and very talented and very able. He was also a keen sportsman, and was especially good at football, and he was a big BMX fan. He was multi-talented and had everything to live for."
Mr Harrison said he had spoken to staff and Bailey's fellow year six pupils, and told them counselling was available if they needed it.
He said the school was respecting the family's need for privacy.
"The children would like to pay their own personal tributes to Bailey and leave some sort of legacy in memory of him at the school, but we will consult with parents," added Mr Harrison.
"The children have been writing personal notes and memories today and it might be that we can put these on a leavers wall that we have at the school, but nothing has been decided yet."
Mr Harrsion said Bailey had been at the school, which has 424 pupils, since the age of four.
Bailey was airlifted to hospital after falling from the ride called SwampFlyer which opened for the first time last Monday.
The 145m (475ft) ride is described by the park as the longest in Wales, going up to a height of 9m (30ft).
People who go on it launch themselves off a cliff and ride on the wire through tree tops and over a swamp.
In a new statement on Tuesday, park owners Stephen and Andrea Bristow said: "We are very sorry that this tragic event happened at our park and our thoughts and sympathy are with the family.
"The park was closed yesterday and has reopened today.
"We have always had the highest safety quality standards at GreenWood Forest Park and all the equipment on the SwampFlyer ride was checked on the morning of the accident in line with guidelines."
The said they were co-operating fully with the authorities.
"Safety is our first priority for our visitors and we are undertaking our own investigation to fully understand what has happened.
The owners said The SwampFlyer zip wire ride will be closed until the investigation is complete.
North Wales Police said a joint investigation with health and safety experts from Gwynedd council had begun.