Royal wedding: David Cameron's Anglesey photos gift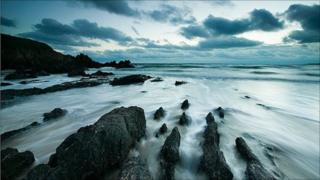 An Anglesey-based photographer has spoken of his surprise after Prime Minister David Cameron chose two of his picture books as a wedding gift to Prince William and Kate Middleton.
Glyn Davies, 46, had a call "out of the blue" on Wednesday asking for copies to be urgently sent to Downing Street.
The books, Anglesey Landscapes volumes one and two, contain more than 100 images of the island, which will be the royal couple's home after they marry.
"I was very shocked but in a nice way of course," said Mr Davies.
He explained how he received the call enquiring about the books.
"The cabinet office said they were a wedding present for someone.
"I said: 'Whose wedding, a member of staff?' They said "No, the wedding', at which point I laughed at my own naivety."
Mr Davies sent the books special delivery, with both volumes and postage already paid for by Mr Cameron.
Earlier, Mr Cameron explained why he had chosen the gift, saying: "I thought, what do you give the couple with everything?
"And I know from talking to Prince William what a great time he has, and has had, living in Anglesey and serving in search and rescue. And so I found these excellent pictures by Glyn Davies, the photographer - a collection of photographs of Anglesey.
"And I thought that would be a happy memory for him while he's here, but also after he's moved on to other things. So I hope it's an appropriate present".
Mr Davies said: "As islanders we have all sort of got used to the fact Will and Kate are hereabouts and we mostly take it all for granted now, but it is nevertheless a huge honour that a) the prime minister had thought about my books and artwork in the first place, and that b) he believes them to be a fitting 'extra' gift for a royal couple.
"That is a huge accolade for me and also a genuine delight that my coffee table books may be read by Will and Kate when they get a breathing space.
"I have heard that Kate is very keen on photography and may become a big supporter of the arts so for her to be hopefully enjoying my photography is again a very nice thought."
Mr Davies, who lives in Menai Bridge, has been photographing since he was 16.
He said the royal couple's presence on Anglesey had sparked "a phenomenal interest", adding that: "Even America now knows that Anglesey is not somewhere in England."
Asked how he will be spending the royal wedding day, he said: "I may go to the beach, have a swim and a picnic and wish them the very best from the sea on the beautiful west coast of Anglesey, and then catch up with the highlights later."