Amlwch's 'boat' church reopens after repairs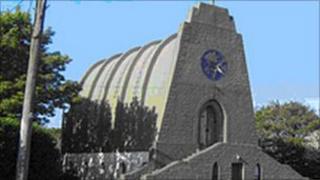 One of Anglesey's most unusual churches, designed by a former Italian prisoner of war to look like a ship, is reopening on Sunday.
Our Lady Star of the Sea and St Winefride's, the Catholic Church for Amlwch, has been closed since 2004 because of increasing damp problems.
Restoration project co-ordinator Chris Thomas said it had been a 'long and difficult journey'.
But he said the people of Amlwch had been positive about the outcome.
The Grade II building was designed by Italian engineer, Giuseppe Rinvolucri, who married a local girl after coming to Britain as a prisoner of war during World War I.
'Fitting testament'
Mr Thomas said the work had to be phased "because of financial contstraints, but the church itself will now be fit for its primary role as a place of worship".
Further work is planned to bring more of the building into use, complete car parking and grounds.
"It is our hope that the work will be a fitting testament to Guiseppe Rinvolucri who was inspired the design the church in the 1930's," he said.
"Our project was, and still is, all about the four R's, the rescue, repair, restoration and rehabilitation of a unique building," he added.
Mr Thomas said the people of the parish are "custodians of this much loved building", and have done all that they can to protect and care for it.
"Our Lady Star of the Sea is a 20th Century building created for this place, making reference as it does to the heritage of Amlwch, its shipping past and position on the very edge of the Irish Sea," he added.
A mass with Bishop Edwin Regan, Bishop of Wrexham, will take place to mark the reopening of the church at 1500 BST on Sunday.