Anglesey jobs and tourism 'balance needed'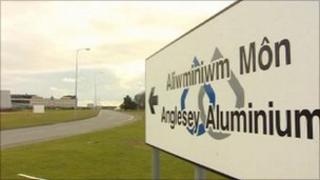 Both manufacturing jobs and tourism can co-exist on Anglesey according to the island's MP.
Reacting to a plan for a leisure park with a possible 600 jobs at Holyhead, Albert Owen said it was a matter of getting the balance right.
He added the island fitted in with the future of sustainable tourism.
Land and Lakes has an option to buy 630 acres of land owned by Anglesey Aluminium Metals (AAM) at Penrhos Country Park.
AAM has funded the maintenance and development of the coastal park as part of their community relations programme since the site became operational in 1969.
Land and Lakes said its objective is to create a "quality destination" leisure resort.
First Minister Carwyn Jones welcomed the "ambitious" plans.
Another announcement is expected next month which may see another 500 hundred more jobs created in the empty smelter plant on the AAM site.
Speaking on BBC Radio Wales Mr Owen said it was important that the island was somewhere people wanted to visit, not just pass through on the way to Ireland, or the rest of Wales.
He added that with new technology in manufacturing jobs and green tourism it did not have to be "one or the other".
"It's about jobs...holidays... getting the balance right," he said.
It also emerged that a partnership of five local councils was in talks with AAM about securing an option to purchase land on another part of the site for waste treatment.
The North Wales Residual Waste Treatment Project (NWRWTP) involves Anglesey, Conwy, Denbighshire, Flintshire and Gwynedd councils.
It aims to find a more sustainable solution for treating the waste that is left over after people have recycled and composted as much as they can.
If all the plans for the land which AAM owns come to fruition it could mean the leisure park, a biomass plant, and whatever comes to the empty smelter plant would be near each other at Holyhead.
Mr Owen said he "is not a great fan" of biomass but it did produce "low carbon electricity" and "no-one wants to go back to fossil fuels".
It is a matter of "piecing everything together delicately" and there will be public consultation, he added.
"We can get people to visit but also leave a legacy of jobs for the future," he added.