Parents unite to save Bala playground from closure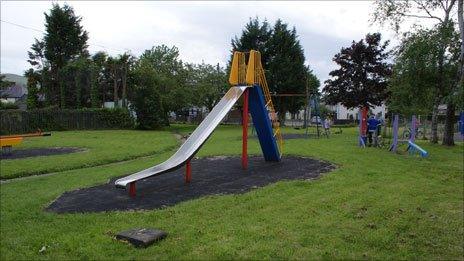 A group of Gwynedd parents are to launch a fundraising appeal to keep a children's playground open.
The Bala and Penllyn Sports and Recreation Association relies heavily on a community halls grant from Gwynedd council to run Castle Park.
The council confirmed the grant has stopped, and the park's operators say it could close by September.
Resident Lorraine Rees-Pritchard said she and other mothers would maintain the park themselves if necessary.
She said the Bala and Penllyn Sports and Recreation Association was formed about 35 years ago when land was left to the town for recreational use.
The association does not own the land, but manages it voluntarily using donations and grants.
Ms Rees-Pritchard said: "If we lose this, where will the children play?
"There is another playground, but it's not safe for children to get to because it's next to a main road.
"Years ago local mothers spent a hard fight trying to get a playground for their children. Now we're trying to keep it for our grandchildren.
"Lots of people are coming together - mothers, nains, taids - to raise funds to keep this for the community."
The residents plan to form a group under the umbrella of the association.
The association's treasurer, Gareth Jones, said it had traditionally received about £2,000 a year from a community hall grant via the county council, because the area includes a hall and other facilities.
It was used to cut grass, clear litter, maintain equipment and ensure the playground stayed up to date with health and safety requirements.
He added: "The playground has been here for years. We refurbished it about five or six years ago, so all the equipment is pretty new.
"We foresaw that we'll struggle to have the funds to maintain the playground."
He said the equipment might have to be mothballed, or sold off unless funds can be raised.
However, he added: "It sounds quite hopeful that this group of people will help out, and have volunteered to cut the grass and things themselves."
Gwynedd council said it was happy to discuss possible options.
A spokeswoman added: "Due to the hugely challenging financial situation facing the council, Gwynedd has identified a number of savings it must deliver over the coming years in order to bridge the funding shortfall we face.
"As part of this process, councillors adopted a savings option to do away with the revenue grant for community halls which has been in place to support community halls that provide space for youth clubs.
"However, those halls which provide space for youth clubs will receive a rent payment which will depend on the number of activities provided at the hall."
Related Internet Links
The BBC is not responsible for the content of external sites.