Springwatch's Chris Packham on Ynys-hir reserve base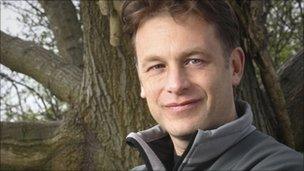 The new home for the BBC's Springwatch is set to provide a huge range of wildlife but has also thrown up technical challenges, says presenter Chris Packham.
The series starts on Monday from the RSPB Cymru's Ynys-hir reserve on the Powys/Ceredigion border.
It will give the team a chance to bring a "local flavour", said Packham.
He is also looking forward to seeing pied flycatchers nesting, red kites, and a heronry.
Although not familiar with the area, Packham said he wanted to get to know more about the "great diversity of habitat".
"It is similar, but still different, to other places... and has a great range of species," Packham added, in a break from rehearsals.
He will be joined by regular presenters Kate Humble and Martin Hughes-Games for the live series, which sees nature's stories unfold over three weeks, as species on the reserve are followed by.
As well as live coverage from the bird reserve, Springwatch 2011 will also include films and live link-ups from around the UK, ranging from features on beavers in Scotland to wildlife found on an Essex rubbish dump.
But the new Springwatch home has presented the production team with some technical challenges.
One was the rigging out the RSPB Cymru's 700 hectare Ynys-hir reserve near Machynlleth, which has involved nearly 40 miles of fibre optic cable, on a site "in the middle of nowhere with no power".
He said the team had done an "amazing" job of overcoming the difficulties.
Packham, 50, said the production team, which is about 100-strong, was "very enthusiastic" and he had every confidence that everything would work out despite the "technically huge challenge".
"It's my job to try and to them justice," he added.
Pre-filming is well underway, and because the reserve is "well documented, we have come across exciting things, but nothing unexpected," he said.
He added, apart from the birds and mammals which make up the core of the show, he was also looking forward to trying to find smaller creatures.
"I'm hoping to go out to find a Welsh clear-wing moth, which is peculiar to Wales," he said.
"I'm keen that we get a local flavour of what is here, things which are representative of Wales," he added.
Viewers will also be keeping their ears open.
Apart from his interest in the natural world, Packham is also keen on his music and his "name-dropping" of song titles into his scripts - mentions of The Smiths once lasted a whole series - has kept the programme's online forums busy.
He said he had thought about it this time but said the only Welsh group that "suits my tastes" are Manic Street Preachers.
"There are other Welsh bands of course, but the Manics are the ones I've listened to with most regularity, but I usually decide to do this at short-notice," he added.
Springwatch will be shown on BBC Two on Mondays, Tuesdays and Thursdays at 2000 BST until 16 June.
Related Internet Links
The BBC is not responsible for the content of external sites.