Trawler is quayside attraction after 10 year absence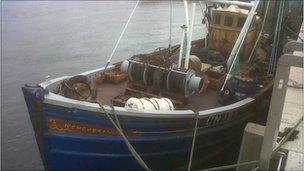 The sight of a 50ft fishing boat in Conwy is attracting attention as a trawler returns to the quay side for the first time in 10 years.
Remembrance used to fish from Pwllheli in Gwynedd, and Plymouth, but owner Calvin Jones wanted to be nearer his Glan Conwy home.
He said the trawler on the quay side is something of a tourist attraction.
A town councillor said it could be a catalyst for seafood events to take place there.
Mr Jones used to work for his father, when he had a trawler at Conwy.
However, he is believed to have been the last trawlerman there and he finished operating 10 years ago.
Mr Jones then went on to fish out of Pwllheli and Plymouth - depending on the time of year - but he wanted to return to his roots.
"I live in Glan Conwy so it's better to have the trawler here, especially when we are fishing for scallops more locally during the season, which here is from November to April," he said.
The boat, which is having a refit, attracts attention on the quay side whenever it returns with a catch, he added.
"At 50ft it is quite a bit bigger than the other boats which fish with nets, and the quay side mostly has yachts," he said.
"Tourists come and watch us, so it's good for Conwy too," Mr Jones added.
Conwy town councillor and Chamber of Trade member, Sara Allardice, said the trawler being moored in the quay was a "boost for the economy".
She said tourism was important, but that other jobs were also needed.
"I've seen figures from 1973 which showed that 70 people from Conwy were employed in fishing and agriculture," she said.
"With this trawler now, and the delicious mussels we also have here, this could be a catalyst for something like seafood events," she added.