Bangor and Glamorgan universities to charge £9,000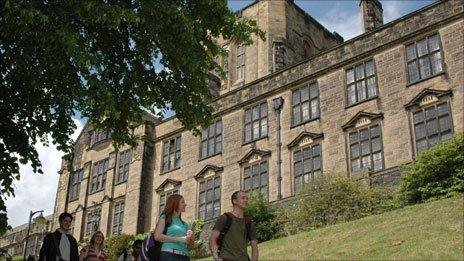 Glamorgan and Bangor universities are the latest in Wales to set maximum tuition fees of £9,000 a year for students from the rest of the UK.
They follow Aberystwyth and Cardiff and the fees will apply from 2012.
Students from Wales will pay £3,400 at Bangor and Glamorgan, with the Welsh Government paying the balance.
Tuesday is the deadline for universities' proposals after the UK coalition government raised the tuition fees cap.
Bangor became the third university to announce the maximum tuition fees, with vice-chancellor, Prof John Hughes, saying the university was "determined to maintain and improve what we offer".
The university said it was "not an easy decision".
Prof Hughes added: "Bangor has always prided itself on offering a high-quality learning experience for students, and despite the challenging financial climate we are absolutely determined to maintain and improve what we offer.
"We plan to increase the number of bursaries to students from low income backgrounds, to invest in the learning infrastructure, and to enhance our provision for student sport and recreation.
"In a pioneering move, the university will introduce free student membership of students' union clubs and societies, and greater support for student volunteering activities and the development of employment-related skills," the professor added.
A new post of pro vice-chancellor for students is being established, and a post of sport and recreation director.
Shortly after, the University of Glamorgan followed suit, announcing proposed fees of £7,500 for a full-time foundation degree and £9,000 for a full-time undergraduate honours degree.
A full-time undergraduate degree at Glamorgan's Royal Welsh College of Music and Drama would also cost £9,000 per year.
Julie Lydon, vice-chancellor of the university and chief executive of the University of Glamorgan Group, said: "We have considered carefully and consulted widely on this proposed package of graduate contribution and support.
"It was not an easy decision to reach but we reluctantly concluded it was necessary to protect the quality of student experience in the context of rapid and significant reductions in government funding."
Aberystwyth was the first university in Wales to propose charging the maximum fee, followed by Cardiff University last week.
Cardiff vice-chancellor Dr David Grant said: "With rapidly reducing levels of government support we have to act responsibly and ensure that our future fee level is sufficient to maintain and develop provision across our wide portfolio of courses."
The estimated cost to the Welsh Government of providing subsidies for Welsh students could be up to £2.3bn over the next nine years.
It is thought most Welsh students will pay the same fee - roughly £3,400.
The estimated 25,000 students from elsewhere in the UK will have to pay the increased fees.
A spokesperson for the Higher Education Funding Council for Wales (HEFCW) said: "Any institution which plans to charge more than £4,000 for eligible students must submit a fee plan to HEFCW.
"These plans will detail investments they intend to make using a proportion of this new income in order to encourage equality of access and promote higher education. All plans must be agreed by HEFCW before the new fees can be charged.
"Fee plans will be submitted to HEFCW by 31 May 2011, and the announcement on their acceptance or rejection will be made on 11 July 2011.
"We don't plan to provide commentary on submissions and institutions' intentions before we announce on 11 July."
Related Internet Links
The BBC is not responsible for the content of external sites.