Petition to stop 'ludicrous' cyclists on Llandudno prom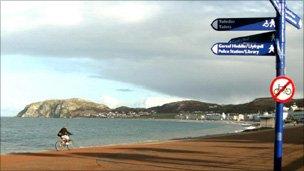 A former mayor of Llandudno plans to start a petition to stop cyclists using the town's promenade.
Ann Yates, a town councillor, said cyclists posed a danger, and to allow them on the prom was "ludicrous".
A byelaw bans cyclists from the stretch, but Conwy council has temporarily decided not to prosecute anyone breaching it while a review of the law is under way.
However, the county council said the byelaw remains in place.
The decision not to prosecute cyclists under the current byelaw was made last week.
Iwan Davies, acting corporate director, said: "The issues surrounding cycling on Llandudno promenade are currently being investigated by a task and finish group, which will result in a policy decision on the matter.
"In light of this investigation, it would not be in the public interest to pursue prosecutions at this time; nonetheless the byelaw remains in place."
Ms Yates said cyclists "think they can just have cycle tracks running everywhere".
She added: "Of course it's dangerous, the rate they speed along.
"They think they have God-given rights to go all over the place.
"Tourists come to the town and it gets crowded sometimes. If bikes go on there, I fear something dreadful is going to happen."
Ms Yates confirmed she had not seen cyclists on the prom since the decision not to prosecute, but said she expected cyclists to "do it slowly and get away with it".
Related Internet Links
The BBC is not responsible for the content of external sites.