Cat found on Anglesey after 400-mile trip from Cornwall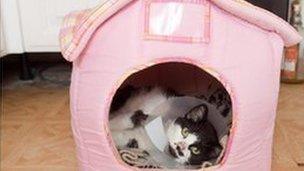 A cat who somehow travelled 403 miles to Anglesey after disappearing from her Cornish home has been reunited with her owners after three months on the road.
Natasha Johns was frantic when one-year-old Charlie disappeared in mid February from Tywardreath.
She was so shocked to receive a call saying her missing pet had been found in north Wales that she thought it was a hoax.
An RSPCA inspector said cats do wander away from home "but not this distance".
Charlie was found on 19 May in Llanfaethlu, Holyhead, "in a lot of pain and really frightened" and her collar had become embedded in her leg.
After Charlie was treated by a vet, RSPCA officers traced her owners after finding a telephone number and postcode in a barrel on her collar.
But they could not believe it when the family's Cornwall address came up on the internet.
Miss Johns and partner Ross Saundry had spent months of putting up fliers and knocking on doors in their search and had given up hope of finding their "nosy" family pet, a gift for their two-year-old daughter Roxanne.
"I really didn't think I was ever going to see Charlie again so to have her home is wonderful," said Miss Johns.
"We went round the town shaking cat biscuits and did everything we could think of to find her but after a few weeks you give up hope."
Miss Johns was "shocked and quite emotional" to receive the call, saying her cat had been found injured and so far away from home.
"I have never even been to Wales so have no idea how she got there," she said.
They are now getting Charlie microchipped in case she tries to go on another adventure.
"I guess that Charlie hitched a ride and it would be interesting to hear from anyone who might be able to tell us the rest of the story," said RSPCA inspector Mike Pugh, who reunited Charlie with her owners in Bristol.
The RSPCA are asking any van drivers who travelled from Cornwall to Anglesey during the second week of February to get in touch.
Mr Pugh added although he was delighted there was such a happy ending to Charlie's story, it served as a warning to families to microchip their pets.
"Animals can literally turn up hundreds of miles from home, months and years after they go missing," he said.
Related Internet Links
The BBC is not responsible for the content of external sites.