Bangor University study targets sugary drinks 'cycle'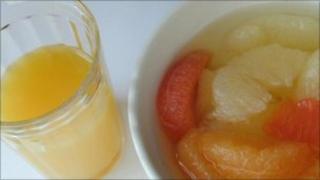 Too many sugary drinks can dull taste and lead to a "vicious circle" of consuming more of them, according to a Bangor University study.
Researchers say the UK government should consider taxing sugar added to foodstuffs.
They claim overweight people have a dulled sensitivity to soft drinks but enhanced subconscious liking for sweet things.
The Soft Drinks Association said too much of anything is not a good idea.
Dr Hans-Peter Kubis, who led the research team, said it has "serious implications" for health.
He says a failure to address the problem could lead to rising obesity levels and more type 2 diabetes.
The researchers say if children are thirsty they should drink water as even squash and natural fruit juice are high in sugar.
Researchers, who undertook trials with people of different weight, say their work shows, for the first time, that overweight and obese people have a dulled sensitivity to soft drinks.
But they also develop enhanced subconscious liking of sweet tastes.
Even for those who are not overweight, drinking two sugary drinks a day for four weeks is sufficient to dull people's sensitivity to the taste sensation.
This reduces the enjoyment of the taste, but increases the person's preference for it.
As the sweet 'treat' becomes less rewarding, the tendency is then to look for more sweet food, or drink, and a "vicious circle" of eating sweet and calorie laden food is established.
The sweet drinks not only include soft drinks however, as levels of sugar found in fruit cordial or 'squash' and natural fruit juice as well as carbonated drinks are all "too high in sugar and too sweet," says the Bangor study.
"This has serious implications for public health," said Dr Hans-Peter Kubis, from Bangor University's school of sport, health and exercise sciences.
"This research shows how little food stuff are required to actually change your taste perceptions, and how powerful sweet tasting products are," he added.
Dr Kubis said sugar was more freely available today than in previous diets.
"We are headed for a multi-level health disaster with rising obesity levels and the increasing incidence of type 2 diabetes," he said.
"From our research it's clear to see how this situation may have created a cycle of sweet food and drink consumption.
"As taste satisfaction levels drop; the more sweet foods are consumed, contributing to these problems," he added.
Dr Kubis said the problem needs to be addressed at a national level.
"My reaction would be to encourage the government to consider taxing sugar that is added to foodstuffs - and have that tax ring fenced for the health budget," he said.
"I'd also question the wisdom of including fruit juice in the five-a-day message," he added.
Fruit juice is higher in sugars than people realise, he added.
The results were based on experiments carried out at Bangor, in collaboration with Bristol Medical School.
A spokesman for the British Soft Drinks Association said soft drinks, like all food and drink, should be consumed as part of a balanced diet.
"As everybody knows, too much of anything is not a good idea," he said.
It would be much better to provide the right information to "enable people to make informed choices, than to impose new regulations and taxes," he added.