Grant Yuill denied baby methadone 'lies', court told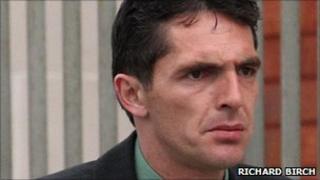 A man accused of rubbing methadone into his baby's gums hours after she was born has denied the allegations, a court has heard.
Grant Yuill, 38, of Porthmadog, Gwynedd, told police he was "speechless" at claims against him.
The child's mother, Nia Wyn Jones, 31, of Caernarfon, who is in jail for the ill-treatment of her daughter, has told the trial both of them were involved.
The trial continues at Caernarfon Crown Court.
Mr Yuill told police during interviews there was "no substance" in the allegations against him, the jury heard on Friday.
He disputed during questioning that he took methadone to hospital for the baby and her mother.
He denies supplying methadone to them and also heroin to Jones, and child cruelty.
He told police the allegations against him were "just lies" and Jones, who is serving three years in jail for supplying methadone and child cruelty, was a liar.