Gwynedd dialysis patients use Skype to cut travel time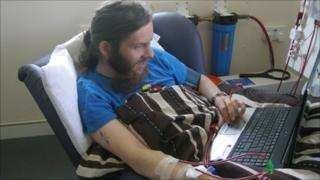 Patients in Gwynedd are using Skype to connect by computer to the local renal unit while having dialysis treatment.
Eleven patients are saving on round trips of up to two hours to see nursing staff for checks by communicating by video over the internet.
Other areas of the UK may follow suit after a British Renal Symposium showcase.
Specialist nurses say it is a low cost way to speed up problem-solving and increases patient confidence.
Haemodialysis specialist nurse Sarah Hirst-Williams said delegates at the symposium had been "blown away" by the simple idea of using Skype, usually used for socialising.
She said it was first thought of by a patient who was a two-hour drive away from the renal unit at Ysbyty Gwynedd at Bangor, and who used Skype to contact family.
Security at the hospital prevented the main computer being used and the Ysbyty Gwynedd Kidney Patients Association stepped in to buy a small laptop with built-in camera.
A wireless modem was then linked to a phone line and it was "that easy to log onto to Skype and find the patients".
Now all patients who come to the unit are asked if they have access to a computer at home, and the patients' association are helping those who do not.
"We've got 11 patients already doing it, and another two being trained up and we started in December so it's worked out so well," said the nurse.
'Trouble-shooting'
"As it happened when the first patient went home it was just before the horrendous weather we had in December.
"Without the Skype link, it would have been a case of getting him back to the hospital by helicopter, as it was we were able to talk him through dialysis," she said.
Now problems which would have taken hours to solve are tackled over the web.
"It gives the patients extra confidence and we still drive to see them once a month to make all the other checks, but it's with the trouble-shooting you gain," Ms Hirst-Williams said.
After the presentation to the renal symposium she said that other areas of the UK were "definitely" interested in taking it up.
Phil Blake, 30, uses the software on a laptop computer as part of his treatment at his Anglesey home.
He says dialysis at home, five days a week, means he can eat and drink more and it is less tiring than having to travel to hospital for longer sessions three times a week.
"Having the Skype here means it's like having the nurse beside me because if there are any problems with the machine, or any infection issues, I can point the camera at it and show her," he said.
His father Selwyn Blake said the system would have helped the family had it been an option when his son began his home treatment six years ago.
"I was quite nervous to start with, I think it's handy that the nurse can see what's going on," he added.
Ken Jones, the secretary of the Ysbyty Gwynedd Kidney Patients Association, said: "In a rural area like Gwynedd it's not just the distances travelled for treatment but the time it takes.
"A lot of patients are nervous of home treatment however as you have to insert a needle in your wrist, so if there are any problems with this now they can point it at the camera and be guided through it," he said.
"It's such a simple idea, I can't understand why more people don't do this," he added.