Suspended Conwy council chief Byron Davies resigns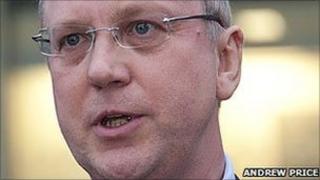 The suspended chief executive of Conwy council who was found guilty of misconduct is resigning from his post, it has been announced.
Byron Davies, 52, was found guilty of misconduct by the council.
In January Mr Davies, from Yelverton, Devon, was cleared of raping a 26-year-old woman at his flat.
Conwy council confirmed on Friday that Mr Davies was leaving immediately by mutual agreement.
Mr Davies had denied the charge of rape, and the judge in the case said he left the court with his good character "very much intact".
Temporary management arrangements
Mr Davies was suspended from his post in March 2010 after he was arrested by police investigating the alleged rape.
He was suspended for a further period while the council looked into other matters.
In March it emerged that Mr Davies has been found guilty of misconduct for being overly aggressive towards staff.
Minutes published by the council showed it had passed a resolution which found him guilty of misconduct, including claims he was rude and abrasive.
The council statement on Friday said: "Conwy County Borough Council Chief Executive Byron Davies will by mutual agreement resign from his post with effect from 17 June 2011.
"Temporary management arrangements were put in place during his absence and these will continue until his successor is appointed.
"Neither Mr Davies nor the council will make any further comment on this matter."