£30,000 toy train theft at Conwy Railway Museum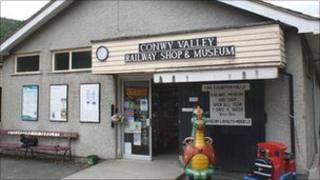 Police are investigating the theft of "irreplaceable" model railway locomotives valued at £30,000 in a raid on a transport museum.
The manager of Conwy Valley Railway Museum believes the models could have been stolen to order after the centre was featured on television.
Thieves broke in by smashing a rear outer door at the museum close to Betws-y-Coed station.
CCTV cameras were sprayed with paint by the thieves.
Marion Turner, who manages the museum and shop, said: "We have lost a lot of rare, valuable and irreplaceable stock and the police have told us that it looks very much like a well-organised crime.
"We get people coming here from all over the world because we specialise in selling items that are a bit more unusual than you'd find in an ordinary model shop."
Expensive coach sets
Items stolen include two rare German-made LGB steam-type engines worth £2,000 each, together with another collectors' item no longer in production, an LGB garden-size "Crocodile" locomotive.
Five Bassett Lowke model engines produced by Hornby in limited numbers - and worth between £500 and £750 each - were also taken, along with dozens of other Hornby boxed locomotives and expensive coach sets.
The museum and shop were featured recently in Michael Portillo's BBC TV Series, Great Railway Journeys.
"Perhaps someone got the idea after seeing the programme, or it could have been somebody who'd previously called at the museum," said the manager.
North Wales Police are hoping some of the models can be traced through their serial numbers.
Officers are appealing for witnesses to contact them about the incident which happened overnight on Wednesday.
Anyone with information is urged to contact PC 659 Andy Davies at Llanrwst Police Station on 101 if in Wales, 0845 6071001 (Welsh line), 0845 6071002 (English). Alternatively, text 66767 or call Crimestoppers Wales on 0800 555111.