Conwy tourism plans include trams and cruise ship hopes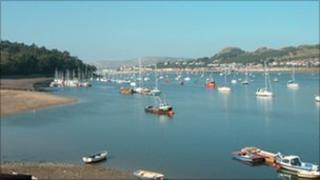 Cruise ships could visit Llandudno as part of plans to boost tourism in Conwy county.
Council officials want feasibility studies to look at new ways to attract visitors such as using trams and period vehicles to ferry them around.
Members endorsed a report called Destination Conwy at a meeting on Tuesday.
Tourism is said to support 10,800 full-time equivalent jobs in Conwy, bringing in £559m a year to the local economy.
But the authority says it wants to do more.
Officials suggest exploring the possibility of carrying out the repair and reinstatement of the docking facility for ships on Llandudno pier, possibly bringing in vessels from the Isle of Man and elsewhere.
The idea of using the pier to ship visitors to the town has been welcomed by businesses.
Jason Beattie, the general manager of Alpine Travel, which offers vintage coach trips around the Great Orme, says more people are always welcome.
"I'd encourage it if it brought more inbound tourists because we'd benefit, as would other businesses in the town," he said.
"Compared to other piers the one in Llandudno is in good condition, and already has attractions on it.
"It's a nice pier, but if they go back to what it would originally have been used for as a landing stage, then there is good potential," he added.
Paul Connelly, who owns the Pier Point fishing shop which supplies fishing permits said a lot of the businesses on the pier have been struggling this year.
"Having ships dock at the end of the pier might interfere with the fishermen there, but I'm sure something could be sorted out," he said.
"Every business on the pier, whatever it is, is always looking for a new injection of customers so it would be a good thing," he added.
The Destination Conwy report includes measures such as seagull-proof bins and developing "quality" street entertainment.
Other ideas include £5.4m improvements to Llandudno railway station, £2.4m to support coastal tourism with improved access and parking, and £1m to create and upgrade cycling trail networks in Conwy county and the Llyn Brenig and Hiraethog areas.