£16m Conwy health centre wins conditional approval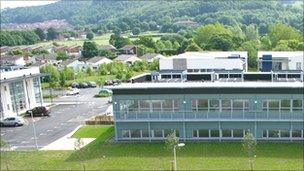 Plans for a £16m health care centre in Abergele, Conwy, creating more than 280 jobs, have been given conditional approval.
The development on North Wales Business Park includes a 79-bed dementia care centre, private surgical unit, brain injury unit and children's nursery.
Opponents are concerned the site is next to gothic Gwrych Castle.
Councillors voted to grant provisional permission, but want information on the impact on the castle.
Councillors said they wanted to know about the impact "on the setting of Gwrych Castle and its grounds and improvements to pedestrian links within the site".
Ian Randles, director of nursing services for Marantomark, the firm behind the plans, said: "We're delighted.
"We're really happy that we can provide much needed services that have been needed in north Wales for a long time."
He added that the company wanted to work with local organisations to provide "excellent services for north Wales".
Proposals include a 26-bed surgical unit with two operating theatres.
They also feature an acquired brain injury (ABI) unit with 30 en suite bedrooms, consulting rooms and a hydrotherapy pool as well as a 79-bed dementia unit with communal lounges and dining areas.
The agents predict the development will create 173 full-time and 112 part-time jobs, according to the application.
A separate children's nursery would employ 20 full-time workers, while the remainder employed in the medical facilities.
Welsh historical monument society Cadw said the proposal would have a detrimental impact on the setting of Gwrych Castle's gardens and parkland, but could be mitigated through appropriate landscaping.
The Welsh Historic Gardens Trust "strongly opposes" the development, due to the impact on the setting of the grounds of Gwrych Castle.
The Grade I listed "gigantic folly" was described as a "magnificent example of a romantic castellated mansion," dating from the 1820s.
It was bought by a developer in 2007 amid plans to develop it into a hotel.
Meanwhile, GPs at nearby Gwrych Medical Centre have also submitted objections, saying there is no local need for such a large development, adding that it would attract clients from outside the area.
They say the addition of highly dependent patients would put a considerable strain on their resources, along with local mental health services.
They say it is their understanding that no such additional resources will be provided.
Related Internet Links
The BBC is not responsible for the content of external sites.