Eirias High School hack claim: Teenager released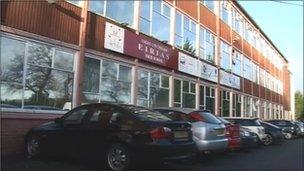 A teenager questioned over allegations school computers were hacked has been released but inquiries are continuing, say North Wales Police.
An investigation was launched at Eirias High School in Colwyn Bay in March into whether computer records of pupils had been stolen.
It followed claims posted on the internet by someone claiming to be a pupil and having accessed the records.
Police would not confirm if the teenager was a pupil at the school.
The school would not comment.
A police spokesman said earlier on Wednesday that a young man was helping with inquiries regarding the alleged misuse of the school computer system.
The school's head teacher Phil McTague said he had "nothing to add to what's already in the public domain".
In internet postings to two so-called computer hacking message boards, the individual claimed to have "successfully hacked my school".
The postings also have an image of alleged records that have been downloaded.
The school had earlier been reported to the information commissioner over a complaint that personal information on a pupil was made public through a YouTube video.