Pwllheli marina: special meeting called over silting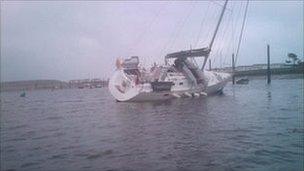 Problems accessing the harbour in Pwllheli, Gwynedd, will be the subject of a special town council meeting.
Boat owners complain that access is restricted to a few hours at high tide because of problems with silting.
Before Wednesday's meeting, town mayor Michael Parry complainted about maintenance of the area by Gwynedd council.
But Gwynedd council said over £500,000 had been spent on the silting problem in the past year.
Council officers will be at the meeting at the Pwllheli Town Council chamber in Stryd Penlan, Pwllheli at 1800 BST on Wednesday.
"The town council has been very concerned about the situation for many years," said Mr Parry.
He said the council had received more than £10m over the years from the marina.
He said the marina had gone from a situation where people had 24-hour access to a couple of hours at high tide.
"When you think of what these people are paying, there are places closer to home where they are going to to to spend their money," he added.
One boat owner, Dewi Pritchard Jones, said if the situation did not improve then he would be moving his vessel from the marina.
"My pleasure is sailing, not sitting in the marina waiting for the tide," he said.
Mr Pritchard Jones said he realised when he moved to Pwllheli that the moorings would have to be dredged regularly.
"If the council had been sensible they would have put a bit of money aside each year for this work, so that when they needed to dredge it would be available.
"But what they have done is bring in machines, which look like toys, to scrape a bit off the bottom, rather than move the mud and sand.
"There are 500 berths here, paying around £4,000 each a year, so there is enough money coming in... I have no idea what the council has done with it," he added.
A spokesman for Gwynedd council said more than £500,000 was spent on solving the silting problem in the past year.
"It is worth noting that the original plans for Hafan Pwllheli never included 24-hour access," said the spokesman.
"That has been possible over the past 20 years because of over-dredging as part of the original development in 1990."
He said that because of unusual levels of silting caused by significant changes to the local marine environment, 24-hour access was no longer possible.
Boat owners had been told not to navigate the area outside the notified times, he added.
The area had award-winning facilities and was the location for a number of sailing events which underlined the fact that organisers of these events appreciated what Pwllheli had to offer, he said.
Related Internet Links
The BBC is not responsible for the content of external sites.