Anglesey, Menai Strait sustainable fishing map launched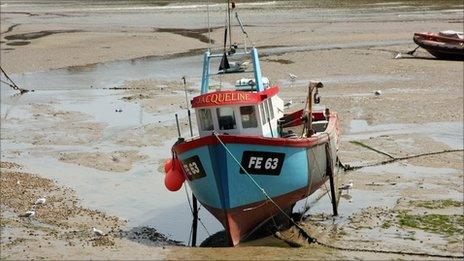 Fishermen on Anglesey are to help protect fish stocks and marine wildlife by contributing to a sustainable fishing map of local waters.
The project, Fish Map Môn, will log vulnerable and more robust areas for fishing around the island and the Menai Strait.
If successful, the EU-funded project could be used in other Welsh sea areas.
Countryside Council for Wales said the plan would help improve the management of local waters for all concerned.
The project, to be launched on Friday at Menai Bridge on Anglesey, is being organised by the North Wales Fishermen's Cooperative, Bangor Mussel Producers, the Welsh Federation of Sea Anglers and Countryside Council for Wales (CCW).
The group explained that details would be gathered from fishermen about their activities and this would be combined with information on the area's wildlife habitats and their sensitivity.
When plotted on the map this would build up a clear picture of the type and level of fishing taking place in various natural habitats.
The map would also act as a starting point for managing sustainable fisheries in the area.
Morgan Parry, CCW's chairman, said for an activity to be truly sustainable it had to look after the local economy and communities as well as the natural environment.
"This project is one of the best examples of collaboration between various interested parties to work towards a sustainable, workable future," said Mr Parry.
"This project has the potential to improve the management of our seas for the benefit of wildlife and for those whose livelihoods depend on them.
"It is in the interest of both biodiversity and the sustainability of the fishing industry to find agreed and sustainable solutions to fisheries management."
James Wilson of Bangor Mussel Producers said he hoped the map would help develop an ecosystem-based approach to managing the marine environment.
"We are happy to be involved in a closely integrated project that will examine, in an innovative way, the crossover between fisheries and environmental needs," he said.
Roger Cook, of the Welsh Federation of Sea Anglers, said the project would provide evidence of any adverse impacts of fishing.
"Any attributed to specific angling techniques would provide a basis for us to revise our code of conduct for sea anglers," said Mr Cook.
Other organisations participating in the scheme include the Welsh Aquaculture Producers Association, the Welsh Government, Environment Agency Wales, SeaFish, South and West Wales Fishing Communities, Cardigan Bay Fishermen's Association, and relevant local authorities.
Related Internet Links
The BBC is not responsible for the content of external sites.