Reward offered after family dogs stolen from Rhosgadfan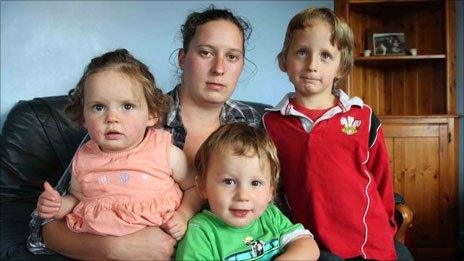 A couple have offered a "no questions asked" reward for the return of their prize-winning dogs and family pets.
Ruth and David Roberts offered the undisclosed amount after thieves stole two racing lurchers and two hounds from their home in Rhosgadfan, Gwynedd.
Thieves struck on Sunday, between 23:00 BST and midnight, cutting a hole in wire mesh and dragging the dogs - one of them pregnant - through.
Anyone with information is asked to call police on 101 if in Wales.
Mrs Roberts said the thieves left two dogs, but took four - a male lurcher called Max, a pregnant female called Bell, and two hounds called Tess and Rhiwlas.
She said: "They cut a hole, a small one, and dragged them through.
"It was very cruelly done.
"Even the pregnant lurcher, Bell, one was dragged through. She's ready to have pups.
"One of the dogs was my child's dog, Tomos. He's very upset and has cried himself to sleep.
"The two remaining dogs are very distressed as well.
"We have put up a reward. We just want the dogs back, no questions asked. If they come back, we won't press any charges."
Ms Roberts, whose husband David is a farmer, said both lurchers had won prizes for racing and showing. Although working dogs, they are considered family pets.
North Wales Police asked anyone with information to contact PC Dylan Pritchard at Caernarfon police station on 101 if in Wales.
Related Internet Links
The BBC is not responsible for the content of external sites.