Irish Sea Swim: Ronan Keating reaches Dublin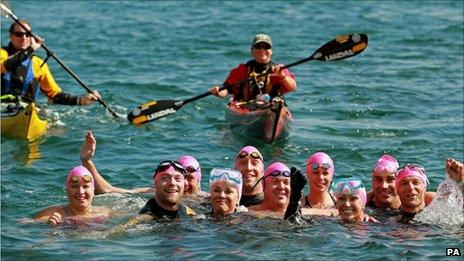 A team of celebrities completed their gruelling 56-mile (90km) charity swim across the Irish Sea from Holyhead on Thursday morning.
Olympic medallist swimmer Steve Parry, pop star Ronan Keating, TV presenters Jenny Frost and Jason Bradbury, and Strictly star Pamela Stephenson arrived north of Wicklow pier at 08:18 BST.
It took them 35 hours and 18 minutes to complete the challenge.
The 11-strong team set off at 21:00 BST on Tuesday, swimming in relays.
"I can't believe we finally made it to Ireland," said Keating.
"Fifty six miles later it's an incredible achievement and I'm so proud of the team."
Butterfly swimmer Parry was first to touch land.
He said: "I've been swimming for the majority of my life and the swim has been the biggest challenge of my life.
"It's been a fantastic team of open water swimmers and adventurous celebrities who have come together for an amazing challenge to raise £1m for Cancer Research UK's life-saving work."
Reports on the team's progress had been quiet overnight due to communication problems.
But a message on the group's Facebook page said: "We can confirm that the swim team have made it safely to Dublin after a 56 mile swim whilst dodging jellyfish. Congratulations to all who took part."
The jellyfish have been a constant problem for the swimmers with one tweet saying "there are a lot of them".
Speaking during a break on Wednesday, Keating said he had been mostly spending his hour-long stints swallowing sea water and avoiding "alien-like" jellyfish.
"I'm not one of the advanced swimmers so I'm concentrating on my swimming, my breathing and keeping my body moving," he added.
"We were warned about the Lion's Mane jellyfish but there are hundreds and it's frightening when they are right there sitting in front of you.
"You gasp and lose your breath but you've just got to keep moving. Thank God we haven't seen any sharks, I'm very happy about that."
Keating, who lost his mother to cancer, swam freestyle on Wednesday morning, weaving his way through the boats moored in Holyhead harbour.
Alongside him, as with all the swimmers, was a safety canoe and support boat.
Local boat owners, and the RNLI team, also brought their vessels out, blasting their horns in encouragement.
Keating, 34, swam for about 20 minutes before a goggle-wearing Frost took over the relay.
As she lowered herself into the water the call was made for Keating to be allowed back on to the support boat.
Frost, guided by light from the safety boat, took the team further towards the tide breakers.
After about 15 minutes Stephenson took over, using goggles and a snorkel.
Each of the swimmers have been taking turns swimming for one hour until the task is complete.
Keating came up with the idea with Sir Richard Branson, who was due to take part in the relay but pulled out at the weekend after fire destroyed his Caribbean home.
Liverpool-born Parry, who won bronze at the Athens Olympics in 2004, was diagnosed with testicular cancer 18 months ago, three weeks after getting married.
Related Internet Links
The BBC is not responsible for the content of external sites.