Porthmadog bypass section opens early for Cob festival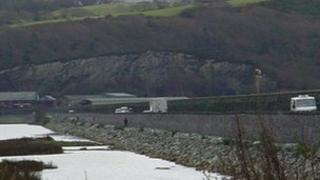 Part of a long-awaited bypass in Gwynedd is being opened temporarily to help celebrations marking the bicentenary of a man-made landmark.
The Cob 200 festival marks the 200th anniversary of Porthmadog's Cob, a causeway built by William Madocks.
Traffic will be allowed to use a partially completed section of the £34.4m Porthmadog bypass leaving the square in Tremadog clear for events.
It is not yet clear whether the road will remain open after the festival.
A series of events are being held this month in a tribute to the causeway and to Maddocks, who also built the village of Tremadog, complete with church, chapel, factory and houses.
He used the "great embankment" - or Cob as it is now known - to reclaim hundreds of acres of land from the sea and, in turn, brought prosperity to the area, linking the slate quarries with the sea.
The Tremadog 200 Celebrations this weekend form part of Cob 200 and sees the square and Church Street traffic-free for 24-hours on Saturday with stalls, street entertainers, traditional fairground activities.
People are being asked to dress in period costume.
The Beddgelert to Penmorfa A498 road will remain open with public transport being re-directed.
A Welsh Government spokesman said through-traffic would be allowed to use the bypass between the Tremadog and Bodawen roundabouts, ahead of its completion by the end of the year.
He added: "Due to ongoing routine works relating to the completion of the bypass, we are unable to confirm at this stage whether or not the aforementioned section of road will remain open after the festivities."
Madocks was born into a wealthy London family in 1773.
But he also had strong links with north Wales, the son of gentry from the old county of Denbighshire.
He bought an estate near Traeth Mawr in 1798 and set about reclaiming several hundred acres of farm land, building the embankment across the estuary of the River Glaslyn, producing a natural harbour.
The Cob was officially opened on 17 September, 1811 and a big celebration is being held in Porthmadog to mark the bicentenary next Saturday.
The Tremadog 200 Celebrations end on Sunday with a service in St Mary's Church at 18:00 BST.
Special events are also being held at Ffestiniog and Welsh Highland Railways in Porthmadog, created in 1832 to link the quarries with the harbour via the Cob.