Porthmadog bypass boycott over English language invite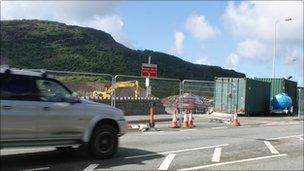 Town councillors in Porthmadog, Gwynedd, are to boycott the opening of a £35m bypass after invitations were sent out only in English.
The council has campaigned for years for the bypass to ease traffic traffic problems.
Its chair called the English-only invitation in the predominantly Welsh-speaking area an "insult".
The Welsh government apologised for the administrative error, saying it was committed to protecting the language.
The three-mile stretch between Porthmadog, Tremadog and Minffordd on the A487 will be officially opened on Monday by Transport Minister Carl Sargeant.
But there will not be representatives of the town council present, although county councillors plan to attend.
At a meeting of Porthmadog Town Council members voted 6-5 not to send any official representatives.
Chair Jean Edwards said: "The smallest thing we would expect was a bilingual invitation. If the government doesn't give priority for the Welsh, what hope is there?
"We are not ignoring the event but it is a type of protest.
"Yes the bypass is important, the opening is important but the language is just as important if not more important.
"This is one of strongholds of the Welsh language and I feel very strongly."
Another councillor, Elwyn Thomas, supported the proposal not to attend the opening.
He said: "We would be expecting a public body like the Welsh government to correspond at least bilingually if not in Welsh, with all public bodies in Wales and with Welsh-speaking individuals.
"The big disappointment was to see that letter in English only and it came from the new [Welsh government] north Wales office in Llandudno Junction.
"We made the proposition on the principle that we would not, as we have done before, respond to non-Welsh correspondence from a statutory body in Wales."
Councillors say that despite the apology, they will not be attending on principle.
A Welsh government spokesman said: "Officials issued English-only invitations to attendees of the opening of the Porthmadog bypass.
"We apologise for this and will contact those affected to assure them that the Welsh government is fully committed to securing the long-term health of the Welsh language and promoting its use."
Under the Welsh Language Act of 1993, all public bodies must have their own language scheme.
The Welsh government's own scheme states that it will correspond and communicate in Welsh.
The Welsh Language Board would only investigate if there was a direct complaint to it.
Related Internet Links
The BBC is not responsible for the content of external sites.