Titanic hero Harold Lowe's plaque is funded by council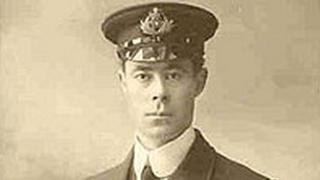 Memorabilia from the Titanic will not now have to be sold off to pay for a plaque commemorating a hero of the disaster from Barmouth in Gwynedd.
Records show Fifth Officer Harold Lowe was in the only lifeboat that went back to the sinking ship to rescue people from freezing waters in April 1912.
The Titanic Trust gave the town council a set of medals which were due to be auctioned for the plaque fund.
But the council will now meet the cost of a memorial from existing balances.
On 15 April 1912, Harold Lowe transferred the people in his lifeboat to other boats, and rowed back towards the sinking Titanic, managing to rescue four people.
He also picked up passengers stranded on a sinking lifeboat, ensuring that everyone alive reached the Carpathia, a ship which went to the rescue.
Lowe - who was played by Ioan Gruffudd in the 1997 film Titanic - later returned to Barmouth, before moving to Deganwy, Conwy, where he died in 1944, aged 61.
A campaign to erect a memorial was started by 17-year-old Maddie Matthews, of Dyffryn Ardudwy, who learned about Harold Lowe when watching the Hollywood movie.
"I've seen the design and its brilliant. I'm hoping it will a fitting tribute and family members and the people of Barmouth will turn out to see it unveiled," she said.
The town council was told that a slate plaque is to be erected either on church land near the quay or on the harbourmaster's office wall.
Church garden
The cost is estimated to be about £1,000 and the meeting heard the council has enough money to cover it in its accounts.
Coun Susan Slater said the church garden was the first choice and approval was being sought from the Church in Wales.
It has been agreed that a plaque will be unveiled in April 2012 to mark the centenary of the disaster.
The slate memorial, which is being made locally, will include an engraving of Harold Lowe and the Titanic and a citation describing his bravery.
Representatives of the Titanic Trust visited Barmouth earlier this year and presented the council with three medals, gold, silver and bronze in special presentation cases.
It was thought these would have to be sold to pay for the plaque.
The memorabilia will now be kept by the council and probably be put on display.
A public meeting in April to discuss a memorial was attended by Harold Lowe's grandson John Lowe and by Howard Nelson, founder of the Titanic Heritage Trust.
Lowe, who was 29 at the time of the disaster, was one of only two of the Titanic's officers to survive.
In total 1,517 died after the liner struck an iceberg on its maiden voyage from Southampton to New York.