Friends of Penrhos concern at Holyhead tourist village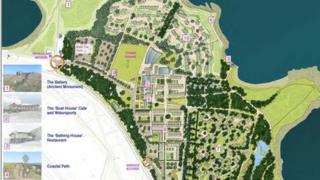 A group says it has been formed to protect the interests of an Anglesey park where a tourism and leisure development is proposed.
Friends of Penrhos say the plan on the Anglesey Aluminium owned-land in Holyhead is too large for the location.
The plan includes building around 500 lodges and cottages along with cafes, bars, shops and sports areas.
Land and Lakes said it was aware that it was a community asset, and it took the public's concerns seriously.
In September it was announced the company has an option to buy 630 acres of land owned by Anglesey Aluminium Metals (AAM) at Penrhos Country Park.
On its website it details the land on three sites at Penrhos, Cae Glas and Kingsland, which are all areas of land in Holyhead.
For Penrhos the company said its vision was to create a leisure village with a mix of "high quality accommodation and a range of sports and leisure facilities".
Holyhead resident Mike Pendragon, a retired finance director, said he was horrified at the scale of the project planned for the 192-acre Penrhos site.
4,000 leaflets
His wife, Jan, relies on a mobility scooter and he said it was the only place within a 20-mile radius where she could easily access the countryside.
He said the promise of 600 jobs could lead to low-paid seasonal work, rather than the high quality full-time jobs the area needed.
The group is meeting later on Thursday, and Mr Pendragon said he would like to work with the company.
"My feeling is that we should be concentrating on consultation, not confrontation."
Commenting on the recent Land and Lakes Ltd public exhibition, Richard Sidi, the company's chief executive, said 4,000 leaflets had been distributed and nearly 700 people turned up.
"Access to the Penrhos Coastal Park was always going to be a concern and we are very much aware of how much of a community asset it is for the people of Holyhead.
"We take the public's concerns very seriously and intend to report back early in the new year via our website - this will be widely publicised in the local press," he said.
In September the island's MP, Albert Owen, said both manufacturing jobs and tourism could co-exist on Anglesey, and it was a matter of getting the balance right.
He said the island fitted in with the future of sustainable tourism.