School and volunteers idea for Conwy libraries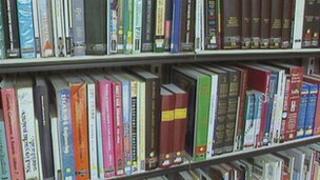 Libraries could be relocated within areas such as schools or colleges and partially run by volunteers in a plan to modernise the service in Conwy.
Five would remain open at Abergele, Colwyn Bay, Llandudno and Llanrwst, and an area library would cover Llandudno Junction, Deganwy and Conwy.
Councillors will be told community libraries will have 15 hours' staff time and 3,000 books.
But objectors are concern as they say libraries are for more than just books.
A report before Conwy councillors on Tuesday notes the proposed community libraries will also be provided with new portable fittings and fixtures, and four computers.
Libraries at Kinmel Bay, Cerrigydrudion, Penmaenmawr, Llanfairfechan and Penrhyn Bay would be affected.
The Welsh government wrote to Conwy council in September 2011 expressing worry that Conwy Library Service had scored badly in the framework of Welsh public library standards for 2008-2011.
The letter stated that "the authority's current performance is amongst the weakest in Wales'".
Public consultation took place during the summer.
Libraries at Kinmel Bay, Cerrigydrudion, Penmaenmawr, Llanfairfechan and Penrhyn Bay could be located within existing community facilities.
This could could be a school or college or within the current library building if it is handed over to a town or community council or a community group to look after.
Libraries affected would remain open until a "community library model" is agreed, but failure to reach agreement could mean library provision would be provided through the mobile library service.
'Very concerned'
Llandudno's deputy mayor, Myra Wigzell, said smaller libraries in the county were "100% perfect" as they were and she questioned the idea to spend money on "fixtures and fittings".
"A lick of paint and a new carpet is often all that's needed.
"They should spend less on new furniture and spend the money on staff instead," she said.
The libraries service was essential, especially for older people, she added.
Colwyn Bay town councillor Dr Sibani Roy, who plans to open a small library in her bookshop, said she was very concerned about any closure plans.
"I understand it's about having to balance (the finance) but it's not just about borrowing books."
Penrhyn Bay library user and local historian Christopher Draper said the plans were "shameful and a disgrace".
"A service which has taken a century to develop will be wiped out overnight," he said.
The library service will be discussed by the joint meeting of communities and customers overview and scrutiny committees at the council offices at Bodlondeb, Conwy on Tuesday at 17:00 GMT.