Electric lead warning over Barmouth caravan fire deaths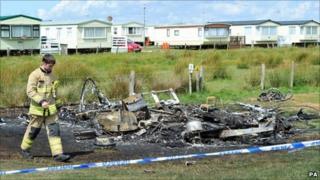 Fire officers have issued a warning about using electrical extension leads after an inquest into the deaths of a father and son in a caravan blaze.
Robert Taylor, 58, and Andy Taylor, 26 from Flint, were caught in the fire which is thought to have been caused by a coiled-up extension lead.
Robert Taylor's granddaughter Emmy suffered 65% burns near Barmouth, Gwynedd, but is now home from hospital.
Accidental death verdicts were recorded.
Both men were overcome by deadly fumes inside the holiday caravan last June after flames spread from an awning.
Two-year-old Emmy Taylor survived after a window was smashed and her grandmother grabbed her, seconds before an explosion.
Emmy's grandmother, Denise Taylor, said Andrew had been sleeping on an air bed inside an awning and the first she knew anything was wrong was when she heard him screaming "mum, mum, get out".
'Big bang'
"As I go out my son was behind me and went back into the caravan to his dad. I never spoke to my husband again."
She said she was shouting for help and trying to dislodge a window to get to her husband.
With a camper's help she managed to dislodge another window and grabbed Emmy from her bed.
"I didn't go very far with her when the caravan exploded with a big bang," she said.
A fire investigator said the mixture of gases in the caravan, when oxygen was introduced through the open windows, caused a flashover.
He explained to coroner Dewi Pritchard Jones that the extension lead in the awning was coiled up, and this would have generated heat.
In turn this would have assisted a transformer leading to a cool box to also overheat.
Recording his verdicts, the coroner said it might be some comfort to the family to know the two men were quickly overcome by fumes and would not have burned to death.
Mr Pritchard Jones said there had been a smoke detector in the caravan, but no battery.
In a statement after the inquest the family praised the people of Flint for their "fantastic and practical" support for the family.
Speaking after the verdict the fire service's Darren Jones said the advice to anyone using electrical items is that they have the potential to cause fire.
"Extension leads should be used with caution - the flex of a coiled extension lead should be pulled out completely before appliances are used.
"If the lead is left coiled, the unit can easily overheat causing a fire.
"If you have to use a fused adapter make sure you keep the output to no more than 13 amps."
Fully operational smoke detectors should be installed in all caravans, he added.
The incident happened at the Sunnysands caravan park early on 11 June.
After the men's deaths, the family said in tribute: "They were two very special men who devoted their lives to their children and brought a smile to the faces of everyone they met."