Margaret Jackson of the Welsh Mountain Zoo dies aged 90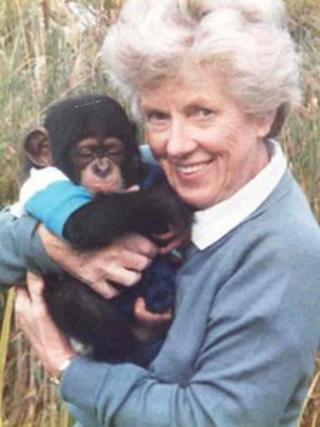 Tributes have been paid to the co-founder of the Welsh Mountain Zoo, Margaret Jackson, who has died at the age of 90.
Mrs Jackson and her husband Robert moved to Colwyn Bay in 1962 and opened the zoo a year later.
Following her husband's death in a fishing accident in 1969, Mrs Jackson ran the animal park for 12 years, assisted by her three sons.
She died peacefully in a Colwyn Bay nursing home, surrounded by her family.
During the 1970s, the zoo grew to become a leading tourist attraction in the region.
In 1973, the BBC featured Mrs Jackson's life in the documentary series "Look Stranger".
In an episode called "Our Mum's Mountain Zoo" Mrs Jackson talked about her life surrounded by animals and the people who worked with them.
Chimpanzee
She stepped down from day-to-day running of the zoo in 1981.
In its tribute, the zoo said her home was often shared with exotic creatures including birds, reptiles and even a chimpanzee.
The zoo said Mrs Jackson would tell stories such as how her husband once placed a newly arrived Boa constrictor on the bed in which she had recently given birth, scaring a midwife.
She would also describe how she coped when a snake handler was bitten by a rattlesnake.
The zoo was absorbed into a new charity, the Zoological Society of Wales, in 1983 and Mrs Jackson was elected as its first chair of trustees.
She remained a trustee until 1993 when she became honorary president.
The zoo said Margaret Jackson was "first and foremost a family woman" and "felt blessed" that she was able to spend her life with her sons Tony, Chris and Nick alongside her.
Living next to the zoo, she visited her favourite animals in later years and offered her observations to both staff and visitors.