Choir forms in Bangor to sing solely at funerals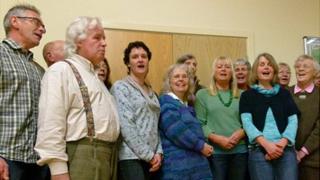 A specialist choir has been formed in Gwynedd to perform solely at funerals.
Funeral celebrant Tim Clark, who acts as an alternative to an ordained minister or vicar, has formed the 16-strong Threnody choir in Bangor.
There has been a growing trend for pop music at funerals, with Frank Sinatra's My Way among the most popular tracks.
But Mr Clark said there were increasing calls for singing as well, with traditional hymns such as Calon Lan popular.
Threnody, which means a poem or song of mourning, is made up of members of Bangor Community Choir, and they will perform at secular funerals, as well as those with a spiritual dimension.
Mr Clark, from Beaumaris, Anglesey, has helped with more than 160 funerals over the past few years in north Wales, and he was trained by the British Humanist Association.
He said: "A secular funeral is solely about the person. There's no set format and their life is at the centre of it.
"Many such funerals are at crematoria, where there is not a tradition of choral singing. We aim to change that, and to help people to join us in song.
'Celebrate their lives'
"Increasingly, I'm finding that people would like some singing along with some recorded music."
Threnody's repertoire includes well-known Welsh hymns and songs, such as Calon Lan, The Eriskay Love Lilt and Ar Hyd y Nos.
Mr Clark said members of Threnody had practised at the crematoriums in Bangor and Colwyn Bay in readiness for their first booking.
Singers Pauline Down and Colin Douglas, who have helped to rehearse and coach the choir, said: "What matters from our point of view, is not the differences between people's beliefs, but their common, human need to mourn those who have died, and celebrate their lives."
The choir's performance is free, but there is a cost for travelling expenses.