Llanaelhaearn pedestrian crossing delay frustration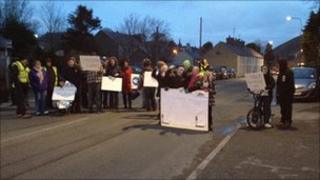 Residents of a Gwynedd village say they are frustrated a pedestrian crossing has still not been installed.
They say they may protest again as they did last year when they stopped traffic on the A499 between Caernarfon and Pwllheli.
Gwynedd council decided to install a crossing in Llanaelhaearn in 2009 and say the delay is due to many factors.
A spokesman said funding needed to be found, and permission from nearby landowners obtained.
"My son was injured whilst trying to cross this road three years ago, and it's obvious that Gwynedd council do not care about the lives of the village children or the local residents," Caryl Jones told BBC Radio Cymru.
"Most drivers don't stick to the 30mph limit here and it was fortunate that the van that hit my son was travelling at 20mph. If a child was hit at the speeds they do here then they would be killed," he added.
Another resident, Linda Cox, said villagers wanted to meet with the council to discuss the delay.
"Ten years have passed now since we first tried to get a crossing," she added.
Einir Ellis added the feeling was that the council was putting forward different reasons all the time to stop the crossing being built.
"We feel that we will have to protest again, because Easter is on the way and after that it gets really busy.
"It's sad we feel that we have to take this move, but our next protest will be in Caernarfon not here.
"The population on the Llyn peninsula trebles in the summer and you really take your life in your hands when you cross the road," she added.
A Gwynedd council spokesman said officers from the council's transport and street care service had met with the local member, the community council and local residents regarding installing a new crossing.
Necessary funding
He said that after a feasibility study it has been agreed that the only suitable location for installing the crossing would be near the bakery building and the old toilet building on the A499 road.
"In order to move ahead with the work of installing a crossing at this location, the council will need to secure the necessary funding for the project, as well as receiving formal consent from nearby landowners as a support wall needs to be erected as part of the work.
"Discussions have been held with the relevant landowners, but no formal consent has been given yet so that the council can move ahead. We will continue to seek agreement with the relevant individuals," he added.