E. coli risk at Trefriw playing field in floods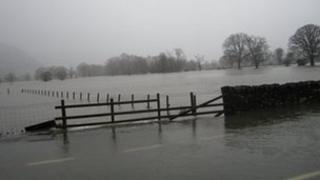 A playing field created as part of a flood control system is at risk of being infected by E. coli in times of flooding, a Conwy council report says.
The field, at Trefriw, forms part of an Environment Agency scheme.
The area was cordoned off in September when E. coli was detected, and part of it still remains closed.
Environment Agency Wales said it was trying to establish what caused the contamination and was hoping to improve drainage at the site.
Further monitoring will take place and a letter has been written to the local school advising of the dangers of trespassing in the affected play area.
Conwy council's Communities Scrutiny Committee will discuss a report on the issue later on Thursday.
The report says: "It is anticipated that this issue will not be an isolated one and is likely to be repeated at each future flood episode."
Following flooding last September, standing water that remained was tested.
The report says that the "level of E. coli present was indicative of contamination by sewage or animal faeces," and a steel fence was erected.
DNA tests
Following tests in November and December, the E. coli had dropped to "background levels" and the lower area was opened for play.
The report adds: "In terms of future management when flood waters cover the river side of the play area and recedes we will cordon off the affected area(s) until bacteria levels drop to an acceptable background quality."
Meic Davies from Environment Agency Wales said: "We are pleased that the majority of the play area is now available to local children but we are looking at ways to solve the problem for the future.
"Floodwaters can become contaminated by bacteria various sources. We are waiting for a clearer idea of the origin of this contamination once we get the results back from our DNA tests.
"Clearly there are drainage issues that need to be addressed and we are in discussion with our contractor about the work carried out here and at the village football field.
"In the meantime, we are looking at what we can do that will solve the drainage problems as soon as possible.
"Better drainage will mean that any contaminated water will not remain standing on the park meaning the children can freely enjoy their play area."