Betsi Cadwaladr health watchdog criticises ward closure notice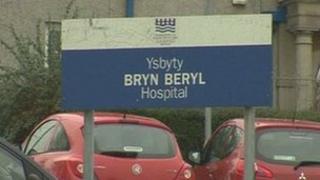 A health watchdog says the NHS in north Wales could have planned and consulted earlier over ward closures this winter.
A meeting of the Betsi Cadwaladr Community Health Council (BCCHC) heard NHS managers admitted they could have told people earlier about plans to close beds at some community hospitals.
The watchdog was told of the closures at some minor injury units (MIUs) a day before they were made public.
Betsi Cadwaladr University Health Board (BCUHB) could not be contacted.
It was announced in December that MIUs at Colwyn Bay, Flint and Ruthin would close temporarily, as well as a ward at Ysbyty Bryn Beryl in Pwllheli.
The move was designed to ease pressure on the NHS over the busy winter months.
Pat Billingham, the BCCHC's chief officer, told a meeting on Tuesday that the watchdog, GPs and social services managers were told of the ward closures 24 hours before they were made public.
She said: "Managers at the Betsi Cadwaladr University Health Board have agreed there should have been earlier communications and broader discussion.
"A protocol is now being drawn up to be followed if there needs to be urgent changes in the NHS in north Wales."
Vice chair, Hilary Scott, said: "There is no evidence to show that the health board couldn't have begun planning earlier, and couldn't have consulted GPs and the local authorities better.
"I'm beginning to share some of my colleagues' concerns about the way the health board does business."
Another member, Abdul Khan, said: "if I were a cynic, I'd say there was no surprise over the date this was announced - just before Christmas.
"It has affected our communities."
He added: "We need to continue to voice our concern.
"We are supposed to be the watchdog, not poodles."
The BCUHB has previously said the changes would be in force until March.