Britannia Bridge 'urban explorer' photographers given warning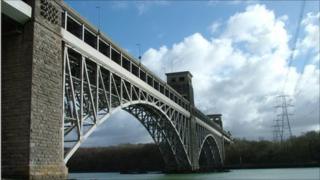 Claims that so-called urban explorers are trespassing on a landmark bridge to take photos have led to a strong warning by transport police.
Internet pictures have been posted taken from Britannia Bridge linking Anglesey with the north Wales mainland.
Urban explorers examine areas which are normally unseen or off-limits, such as empty factories, abandoned shipyards and tunnels.
British Transport Police called it "illegal and extremely dangerous".
The two-tier structure carries trains and vehicles, and some photographs have been taken under the bridge and show maintenance walkways, columns and the railway.
A BTP spokesman said: "BTP officers are investigating possible trespass offences after being made aware of photographs which appear to have been taken from Britannia Bridge in north Wales and which have appeared online.
"Inquiries are ongoing to establish the identity of the person, or persons, responsible for taking the photographs and to establish whether any offences have taken place.
"Trespassing on any part of the railway is illegal and extremely dangerous."
BTP said parts of Britannia Bridge were restricted areas and could only be accessed by trained railway staff and contractors because of the dangers.
The spokesman added: "Signs warning people not to trespass on railway property are in place for your safety - not for your inconvenience - and they must be adhered to."
The bridge was badly damaged by fire in 1970. It reopened to rail traffic in 1972, and the road was opened in 1980.
BTP said they were not aware of people trespassing on other prominent sites in Wales to take photographs.
Anyone with information about those responsible for taking the photographs is asked to contact the British Transport Police on 0800 405040.