Big spelling mistakes on signs in Gyffin car park, Conwy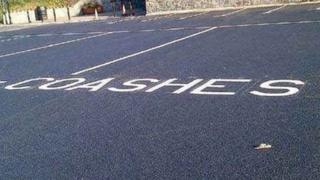 A council has promised to put right two big spelling mistakes on signs painted on the ground in one of its car parks.
The Morfa Bach car park in Gyffin, near Conwy Castle, has been recently resurfaced, ready for the summer season.
One sign, in English, reads "coashes" instead of coaches, while another in Welsh says "beiciau modus" instead of beiciau modur, for motorcycles.
Conwy council said: "We are aware of the errors and they will be rectified."