Dolgellau footbridge opens after £450,000 build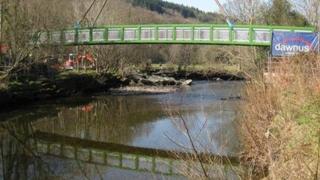 A new £450,000 footbridge over the Afon Wnion in Dolgellau has been opened on Friday.
It replaces the old Dr Williams' foot bridge and will expedite the movement of walkers within the the Gwynedd town.
The first bridge was installed at the spot before 1900, and improved in 1969, but it was still narrow with sharp ramps and turns.
The new wider bridge was funded by the Welsh Government with a challenge to replace the old one before Easter.
"We are pleased that the work is now nearing completion, with the aim to have the much-loved footbridge open to the public for the Easter holidays," said Jonathan Chapman from Gwynedd council's consultancy department.
The bridge has been known by a number of different names, but all relate to the adjacent Doctor Williams School for Girls.
Local memories
The official title is Pont Droed Dr Williams (Dr Williams' foot bridge), but it is also known as Ladies Bridge, Green Bridge, Pont Brenhines (Queen bridge) and DWS Bridge.
A council spokesman said many of the town's residents have fond memories of the bridge.
"Memories are often recounted by the men of the town who recall waiting on the bridge for the school to finish when the girls returned across the bridge," he said.
"Several of the school's former pupils remember occasions when he river flooded covering the bridge and having to go the long way round to school.
"Another fond memories the last day of school year when the bridge was lined with girls throwing their green school berets high into the air before watching them float away downstream," he added.