Lone climber rescued near Snowdon summit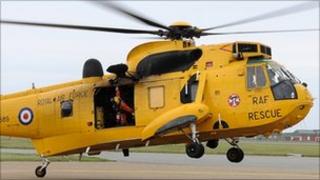 A climber on Snowdon has been rescued after becoming stranded on a grassy ledge near the top of the 3,560ft (1,085m) peak.
The man, aged in his 30s and climbing alone, was within 100ft (30m) of the summit when he called for help.
He was spotted on a thermal imaging camera by the crew of an RAF Sea King helicopter from Valley on Anglesey, and was winched to safety unharmed.
The man was wearing a helmet, but was climbing without ropes.