Gunshot victim Rachel Williams' donation to Swansea's Morriston Hospital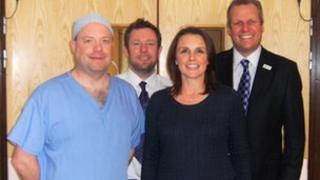 Surgeons who saved a woman's leg after she was shot in a Newport hair salon by her husband, have accepted a £1,000 donation on behalf of a hospital.
Rachel Williams spent about a month at Swansea's Morriston Hospital with her her left knee, tendon and the top of her shin bone destroyed.
Husband Darren was later found hanged, and six weeks later, their son Jack was found dead in woodland.
Ms Williams was working at Newport's Carol Ann Hair Salon when she was shot.
Darren Williams went to the salon in Malpas on 20 August last year and opened fire with a double-barrelled shotgun, wounding his estranged wife.
Connie Evans, a 92-year-old widow, and another elderly customer were also wounded in the shooting.
He was later found dead in woods along the M4 motorway near Rogerstone.
The couple's only child, Jack, 16, was found dead in Brynglas Woods nearly six weeks after the incident near where the teenager had spread some of his father's ashes.
A family spokesman said at the time that Jack had found it hard to come to terms with the events.
His parents had split up before and put their family home up for sale.
Extensive injuries
Ms Williams was initially treated at the Royal Gwent Hospital in Newport before being transferred to a specialist trauma centre at Morriston Hospital where she underwent a 10-hour operation.
Her injuries were so extensive that doctors thought they would have to amputate her leg above the knee.
But less than four weeks after surgery Ms Williams was allowed home.
"I could still wiggle my toes so I was determined to try and keep my leg," she said.
"At first I was a bit nervous about going home as my leg was in a brace and it was hard to get around.
"My aim is to perfect my walking as best I can. I know it will never be perfect and the use of my leg will always be limited, but I'd like to make the best of it."
About her donation, she added: "I was treated on Pembroke ward and the nurses and doctors were fantastic. It feels so good to give something back."
'Amazing'
Ms Williams' three surgeons took muscle from her calf and skin from her thigh to fill in and cover the hole left by the gun shot.
One of the surgeons, Mark Mullins, said: "Because so much of the knee joint, tendon and tissue had been destroyed we not only had to replace the whole knee, but the missing shin bone, tendon, tissue and skin covering the area.
"We then had to replace the tendon running down the front of knee.
"But the fact that she is now able to walk on her own and drive is amazing."
Ms Williams raised the donation from an auction and a raffle at a dinner to celebrate her 40th birthday.