Three rescued by helicopter from stranded fishing boat on Menai Strait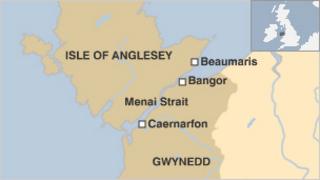 Coastguards have criticised anglers who needed rescuing after getting into difficulty during a fishing trip overnight off the north Wales coast.
Holyhead coastguards say the three men, aged in their mid 20s and from Manchester, were poorly equipped when they set out from Caernarfon.
They used a mobile phone to call for help at midnight after their engine broke down, saying they were lost.
They were flown to hospital by rescue helicopter and treated for hypothermia.
The anglers were found drifting in the Menai Strait.
Holyhead coastguards said the anglers were poorly equipped, without VHF radio, life-jackets, foul weather clothing, navigation system and distress flares.
Beaumaris and Porthdinllaen life boats went to their aid while coastguard shore teams also began a search.
An RAF Sea King rescue helicopter from RAF Valley, Anglesey, was called in and the men were winched on board from a lifeboat.
They were flown to Ysbyty Gwynedd in Bangor where they were treated for hypothermia.
Coastguards also said that the boat was in a poorly maintained condition.
Early reports had suggested that three women had been rescued by helicopter after their boat got into trouble in rough conditions, but it turned out to be the sea anglers.
The vessel left Caernarfon on Sunday at about 19:00 BST.