Peacock mystery in Deiniolen home of Paul and Christine Dicken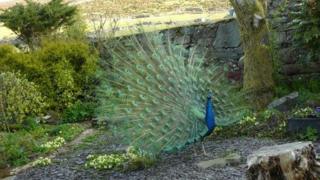 A couple are trying to find out who owns a peacock which turned up unexpectedly at their village home.
The spectacular bird is now helping itself to plants in Paul and Christine Dicken's garden at Deiniolen near Llanberis, Gwynedd.
Mr Dicken said its arrival was unusual as their home in Snowdonia is about 370m (1,200 ft) above sea level.
They say they do not know anyone locally who keeps peacocks and are appealing for information.
The couple live in a detached house surrounded by fields, with their nearest neighbour some distance away.
The couple say the bird is very striking with a tail span of about 2m (6ft), but it is eating every young plant in their garden, and leaving a mess.
While they are not making any attempt to move it, they would like it to fly away.
"He flies into the back garden as there is no other way to enter it as we keep the gate shut
"He does go out into the lane or sometimes the field, but then he comes back into the garden every time," said Mr Dicken.
It has been called Bob by their three-and-a-half-year-old grandson Logan.
'Quite a surprise'
"It arrived on Saturday morning and it was quite a surprise," Mr Dicken added.
"We're 370m above sea level and we see sheep from time to time as it goes with the territory, but the most exotic bird we've seen here before this is a curlew."
Mr Dicken said the family was not feeding the peacock so as not to encourage it to stay.
"He is extremely friendly and immediately comes up to you to be fed, so he must be used to people," he added.
In an attempt to find out where their visitor comes from, they have made inquiries locally and put an appeal in their local newspaper, the Caernarfon Herald.