Conwy 'Nobby' boat restoration wins £50k lotto cash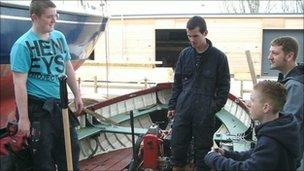 A community project to restore a 100-year-old Morecambe Bay prawner, known as a "nobby" boat, has secured the £100,000 funding it needs to continue.
The Heritage Lottery Fund has awarded the Conwy Quay project £50,000 towards restoring the 43ft (13m) Helen II.
With matched funding from other sponsors, work is expected to resume on the vessel this week.
Students at Coleg Llandrillo Cymru studying marine engineering are expected to help with the work.
Once restored and returned to the water, the vessel, to be berthed in Conwy Harbour will become used for sail training, teaching young people seamanship and boat-handling skills.
The boat is known as a "nobby" prawner after a local dialect word meaning compact.
The design was commonplace in north Wales and the north west of England during the 19th Century.
The vessel, built in Conwy in 1910, was bought by the Roddick family in 1999. It was donated to the community project in in memory of a family member who died of cancer at the age of 34.
Helen II is housed under a purpose-built shelter on Conwy Quay harbour. Restoration work is expected to take up to two years to complete.
In the meantime, the students have been practising their skills on a another boat offered to them for restoration work.
The harbour launch, named Emma, will be a support boat for the Helen II.
The students replaced the engine, planks and boards, and updated navigation systems.
Related Internet Links
The BBC is not responsible for the content of external sites.