£1.6m flood work protects 220 homes in Abergele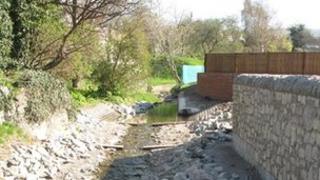 Work has finished on a £1.6m flood relief project to protect more than 220 homes and businesses in a Conwy town.
Environment Agency Wales (EAW) said engineers had to overcome a number of challenges in Abergele to complete the work in a busy town centre location.
As the River Gele passes near to homes, two schools and industrial units, walls and a culvert had to be rebuilt during the works.
Workers also relocated rather than upgraded an existing weir.
The new weir has also improved fish and eel passage along the river, said Meic Davies, EAW's north Wales flood risk manager.
"This is an important scheme for people who live with the threat of flooding in Abergele," he said.
"We can't prevent all flooding, but we can help to reduce the risk for people living near rivers."