Conwy scout hut badly damaged by fire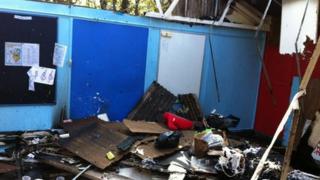 Investigations are underway into a fire which badly damaged a scout hut near the town walls in Conwy.
Fire crews were called to the scene in Llanrwst Road at 05:17 BST on Sunday and found the roof well alight.
North Wales Police and North Wales Fire and Rescue are investigating how the fire started.
James Astrop, a leader of the 1st Conwy Scouts, said they were in "a state of shock" at the loss of the building they had used for nearly 50 years.
"The hut has been there since 1965 - we can't believe what's happened to it," he said.
"One of our leaders has been going there once a week since he was eight years old - he's in his mid-forties now.
"There's very little left of the hut - we think some kayaks behind the building were set alight and the fire spread from there.
"Because of its location near the town walls we do a get a bit of low-level nuisance and occasional break-ins.
"But we've never had anything on this scale before.
"The building is basically unusable - I think it's going to have be rebuilt."
Mr Astrop said an appeal would be launched to raise funds to rebuild the hut, which he said was on land the scouts lease from Conwy council.
But he said the immediate task was to find temporary premises.
"We've now got around 80 Beavers, cubs and scouts looking for places to meet," he said.
"There are a couple of community centres we can use and we've already started making inquiries."