Llanrug crash: Sasha Jarvis, Sian Lloyd Davies took cocaine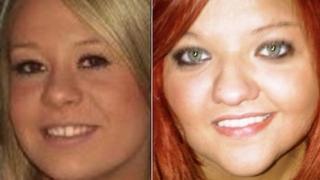 Two young friends killed in a car crash hours into the New Year had taken cocaine, an inquest has heard.
Driver Sasha Jarvis, 19, and Sian Lloyd Davies, 21, both of Gwynedd, died when the car hit a wall at about 6am on 1 January in Llanrug, Snowdonia.
Coroner Dewi Pritchard-Jones said it was sad that drug use had become so common.
He recorded an accidental death verdict on Ms Jarvis, who had been drinking, and unlawful killing on her friend.
The inquest heard that the Vauxhall Corsa was wrecked when it crashed into a wall, then careered into two other walls.
A police accident investigator said the car may have entered a 30mph zone at more than 50mph. After hitting a brick pillar, it spun and slammed into other walls.
The hearing was told that Ms Jarvis, a care worker, of Llanberis, had been taking cocaine and had a count of 0.35 milligrams per litre, the toxic level being 0.25.
In addition, she had a blood-alcohol level of 257, more than three times the legal limit for driving.
A pathologist told the inquest she would have been very drunk and with cocaine would have given her a feeling of wellbeing and self-confidence.
Coroner Dewi Pritchard-Jones recorded a verdict that she died from an accident.
However, he passed a verdict of unlawful killing on her passenger Ms Lloyd Davies, 21, a freelance administrator, of Pentir, near Bangor, who was wearing a seatbelt.
The coroner explained this was because, if she had lived, Ms Jarvis was likely to have been prosecuted for causing death by dangerous driving due to the level of alcohol and cocaine.
Speaking at the inquest, Mr Pritchard-Jones said the use of drugs among young people was becoming more common.
"In recent years we are coming across drugs more and more often," he said.
"In cases involving young people, it's a rarity for us not to find any drugs, and it's a sad reflection that the use of drugs - especially cocaine - has become so common in this part of the world.
"The message is that drugs kill."