1860s photo album of Bala and Llanuwchllyn for auction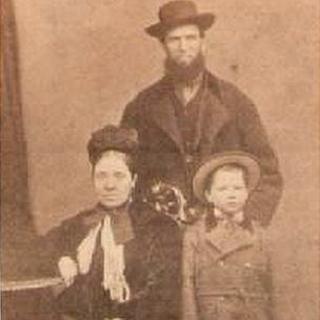 A Victorian family photo album found in a house attic has offered an insight into the lives of people in a corner of Gwynedd 150 years ago.
Auctioneers say the images from Bala and Llanuwchllyn are from the 1860s, not long after photography's invention.
They show local people, ranging from the local barber to policeman, dressed in their Sunday best, and local scenes.
The album will be auctioned at Mullock's Ltd in Church Stretton, Shropshire, on 28 June.
"The album was found in a lady's attic in Shropshire," said Richard Westwood-Brookes from the saleroom.
Click here to see more images from the album
"Her husband was Welsh and we think it came down through his family.
The images are described as "carte de visite" style of photography, which is the same size as playing cards.
"They were taken in the 1860s within 20 years of the invention of photography so they must be amongst the first pictures taken of this particular area."
Mr Westwood-Brookes said because the whole process of taking pictures was so expensive it was common practice to produce photographs the same size as the camera plates.
These were there printed on very thin paper, which was mounted onto card, and were often used as "luxurious calling cards".
The Bala and Llanuwchllyn images are marked as taken by a local photographer - Edward Williams - although some of the prints note he was based in Bala, whilst others state his studio was in Llanrwst.
"Two images show women in traditional dress, not the tourist version, but the real thing," said Mr Westwood-Brookes.
Victorian photograph albums are pretty common, as are family bibles.
They often end up as lots in auctions and in second hand shops, but are not always in good condition, Mr Westwood-Brookes added.
"This one is in excellent condition, though, and it is pretty rare to get a series of pictures of people living in a very small area.
"Communication would not have been what is is today at that time and I find it fascinating because it's a way of putting human beings in a historical document."
He said the album could make around £500 but "it's impossible to put a proper estimate on it".
"There are three candidates for this sort of lot.
"It could be an institution - an university or the National Museum of Wales - or collectors of Welsh memorabilia or photographs.
"Or it could be people who live in the area. If your grandfather is pictured, or it shows your house, you might want to buy it," he added.