Cymru Country Chickens: Strike threat over jubilee work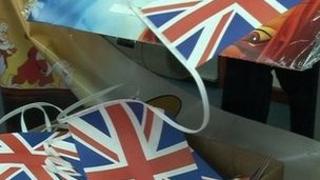 About 300 abattoir workers could walk out of a chicken processing plant on Anglesey in a row about working over the Diamond Jubilee bank holiday.
Staff at Cymru Country Chickens in Llangefni are angry at having to work on Tuesday for no extra money.
The Unite trade union said a collective grievance had been logged with the firm and industrial action could follow.
Vion, which owns the firm, said the holiday was not statutory, but it will give staff a day off in lieu.
Normal day
It was announced last year that a four-day weekend would be held to celebrate the Queen's 60 years on the throne, with bank holidays on Monday, 4 June and Tuesday, 5 June.
However Paddy McNaught from Unite said Cymru Country Chickens had told workers the Tuesday would be treated as a normal day and not a bank holiday.
They have told them they will be entitled to a day off in lieu but there will be no extra pay, as is normal for staff working a bank holiday at the plant.
"People are really annoyed. The company has come through very difficult times and a difficult trading position and they have turned a profit every year," said Mr McNaught, who is Unite's regional industrial organiser, based in Bangor.
"These guys have worked really hard to make sure the company survived and made a profit.
"The company see the factory as one of their flagships and in fairness they're investing in the plant.
Collective grievance
"But you also need the commitment of the workforce to make it a success."
He said a collective grievance had been logged and heard by the company and had now gone to the appeal stage.
If that does not see the company agree to recognise the bank holiday, union members will likely be balloted for strike action.
Mr McNaught said the workers' contract gave them entitlement to all bank holidays but that the company was refusing to recognise the jubilee Tuesday as a statutory bank holiday.
He added that, nevertheless, a precedent was set when the company paid extra to staff who had to work on the bank holiday which was held as a celebration for the Duke and Duchess of Cambridge's wedding last year.
A spokesman for Vion said: "Vion works closely with its customers to deliver food to supermarkets shelves 364 days a year.
"The Tuesday isn't a statutory bank holiday but Vion is nevertheless providing a day off in lieu for those who work on Tuesday."