Investiture and life-saving link to Diamond Jubilee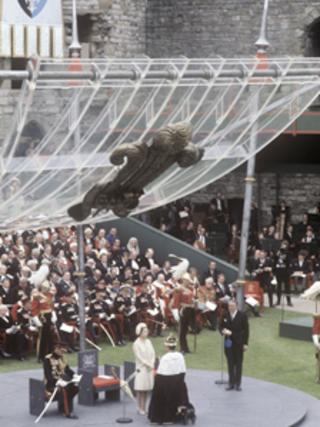 As the Queen celebrates her diamond jubilee, BBC Wales' Wena Alun Owen takes a look at her links with north west Wales.
The Queen's association with north west Wales is probably best known through her son and now her eldest grandson.
Her Majesty held the investiture of Prince Charles as Prince of Wales at Caernarfon Castle, Gwynedd, in 1969.
The July 1969 investiture of Prince Charles as Prince of Wales and Earl of Chester was a global event for Wales, with an estimated television audience of 500 million people.
Some 90,000 cheered on the streets of Caernarfon while another 4,000 watched from within the castle walls.
But the ceremony was conducted against a background of protests by some nationalists over a period of months.
On the day of investiture, a bomb exploded at council offices in Abergele. It killed the two men who were carrying the device.
Yet opinion polls showed the investiture was popular in Wales, with around three quarters of the population supporting it, though almost half were concerned about the expense.
Her Majesty has been back to the area a number of times since, in addition to going back to the castle for the Royal Welsh parade.
In 1975, the Queen returned to Caernarfon Castle to present new colours to the Royal Welsh.
In 1977, the year of her Silver Jubilee, she and Prince Phillip visited Llandudno, returning again in 2010.
In 2002, her tour took in Bangor, Gwynedd, and Beaumaris and Llanfairpwll on Anglesey.
Anglesey currently has a direct link to the royal family as the Queen's grandson William - The Duke of Cambridge - lives on the island with his wife, Catherine.
Prince William, known as Fl Lt Wales, is a search and rescue helicopter pilot based at RAF Valley.
Her Majesty visited the base in April 2011 and was given a personal tour of the helicopter hanger by her grandson.