Anti-nuclear group Pawb's Anglesey job creation plans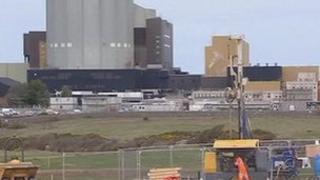 An anti-nuclear group has published plans on how it believes jobs can be created on Anglesey.
People Against Wylfa B (Pawb) says the fact companies have pulled out of plans for a new nuclear power station shows the economic case is weak.
It proposes an offshore wind farm and the promotion of tourism instead.
The Welsh government says Anglesey is the best option for nuclear development, and the company behind Wylfa B says the project is still live.
At the time talks were continuing to find investors, after the company which was to build a new nuclear power station on Anglesey pulled out.
E.ON and RWE npower are looking for a new owner for Horizon Nuclear Power, the joint firm to develop Wylfa B.
Wylfa B was seen as promising an economic lifeline to the people of Anglesey.
According to the proposals, about 5,000 construction jobs would be created while the plant was built, and between 800 and 1,000 people would be employed in the station.
Dr Carl Clowes, a member of Pawb's management committee, said however there are many opportunities as an "alternative to the nuclear scenario".
He told the Good Morning Wales programme that the fact Horizon had pulled out of the planned Wylfa B development earlier in the year showed the companies behind the plan had realised "the economic case for Wylfa B was very weak".
"Alternative energies are creeping up and being far more reliable and efficient in terms of units costs," he said.
It was an "irony" that Wylfa B was being promoted on an island with some of the best opportunities for alternative energies in Western Europe, he added.
'Eggs in one basket'
Pawb says up to 3,000 jobs could be created on the island, and Dr Clowes said one plan being backed is a proposal for a massive offshore wind farm between Anglesey and the Isle of Man.
That would create between 200-300 jobs, he said.
"The solar photovoltaic (using solar panels to convert sunlight into electricity) industry is increasing apace. These are seen as Cinderella-type industries... but they are real jobs, here today," he added.
Tourism could also be developed, he argued. He said the Welsh government had put "all its eggs in one basket" by backing Wylfa B and saw it as the cure-all.
"Many opportunities have been lost," he added.
Horizon Nuclear Power had hoped construction of the £8bn Wylfa B project would start towards the end of 2012.
It had been developing options for two to three new reactors next to the existing Magnox station, which has been given permission to operate until 2014.
In response to Pawb's proposals, the company insisted the Wylfa B project was still live and would create "a huge range of long term, high quality jobs".
In a statement it said: "Horizon is continuing to develop plans for a new nuclear power station on Anglesey alongside preparations for new ownership.
"In addition to other potential energy schemes planned around Anglesey, a new nuclear power station at Wylfa will bring an enormous economic opportunity to Anglesey and north Wales."