Diamond Jubilee: Rhosneigr, Anglesey, holds four-day celebrations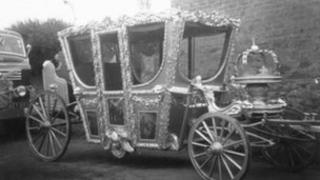 An Anglesey village is holding a four-day Diamond Jubilee celebration that reprises one held there in 1953 to mark the Queen's coronation.
A craft exhibition is being held in the village hall with entertainment in the evening while on Sunday Rhosneigr's Big Jubilee Lunch event will be held.
It will include a picnic on the beach and a parade of queens.
There may also be a flypast from 22 Squadron based at RAF Valley where Prince William is based.
The village is 10m miles by road from RAF Valley where Prince William is a search and rescue helicopter pilot.
Members of Ft Lt Wales' flight and maintenance crews live in the area.
During the weekend, a film from the 1953 celebrations showing a replica royal carriage pulled by four white horses is expected to be screened.
Rhosneigr held street parties for both the Golden Jubilee and the Royal Wedding of William and Kate.
The Big Jubilee Lunch will be held on the beach with people, both locals and holidaymakers, encouraged to bring food and games.
John Morrison, chairman of Rhosneigr community council, said: "There's massive support for fun in Rhosneigr.
"We've gone for four days of events so that there is something for everyone, with the emphasis on family entertainment."
The 1953 replica royal coach was created by Clement "Smiler" Beretta, who owned the local picture house, the Pavilion.
He entered a competition to commemorate the coronation, and a 35mm film was made to record the event.
His daughter Joy Thomas, who now lives in Dundee, said: "I remember it was a very busy time before-hand and I was riding on one of the front horses, but I was only 10-years-old at the time."
Having the Duke and Duchess of Cambridge as neighbours is not the first brush with royalty for Rhosneigr.
Edward VII loved golf and was apparently a visitor to the Royal Anglesey Golf Club on the sand dunes.