How Llandudno staged Olympics before the modern games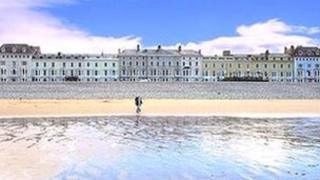 When it comes to the history of the modern Olympic Games, Athens in 1896 is generally regarded as where it began.
But when the Olympic flame visited the Conwy town of Llandudno, some insist that it was passing one of its spiritual homes.
Thirty years before Athens and more than a century before London 2012, the town staged its own Olympics - and not once, but twice.
One of the men behind the games was Liverpool athlete John Hulley.
City historian Robin Baynes, a former competitive swimmer, said Hulley was ahead of his time, and started an Olympic festival in Liverpool in 1862, switching it to Llandudno three years later.
A John Hulley Olympic Festival is taking place in Liverpool this summer to celebrate his achievements.
Mr Baynes said Hulley's grave was found in 2008 in Liverpool by another historian, Ray Hulley, who was no relation.
Mr Baynes said: "John Hulley was a gymnast, and he was a flamboyant character.
"He was a visionary and he was ahead of his time, and what he wanted to do was get physical exercise out to the masses and he networked with the business people of Liverpool who built him a gym.
"One of the most historic facts is that in 1865, on the 6 November, they signed the national Olympic association charter, which became the forerunner of the BOA (British Olympic Association) and the forerunner of the IOA (International Olympic Association)."
Mr Baynes said Hulley held his first Olympic festival in Liverpool in 1862, which attracted 10,000 people.
Two years later Hulley moved the games to a larger venue in in the city, but why they were switched to Wales is a mystery.
"Why they moved it to Llandudno we don't know, but he did in 1865 and 1866," Mr Baynes said.
Information from the Athletics Society of Great Britain, founded in 1860, shows there was an Olympic Festival was held in Llandudno in 1866, said Mr Baynes.
Olympic movement
A regatta, a yacht race from Liverpool, gymnastics and a carnival to crown the festivities were all staged in the town.
Mr Baynes said history showed Hulley's thinking influenced his two friends, Dr Penny Brooks and Ernst Georg Ravenstein, two fellow founding fathers of the British Olympic movement, to think on a much larger scale.
He claimed that Hulley, Brookes and Ravenstein's ideas influenced the thinking of the Frenchman, Pierre de Coubertin, to create the International Olympic Committee.
Hulley died aged 43, and Mr Baynes said his untimely death should not prevent the recognition and accolade he so richly deserved as a founder of the British Olympic movement.
Last week, the Olympic torch was carried along the Great Orme limestone headland on the Creuddyn Peninsula in Llandudno, and travelled by cable car.